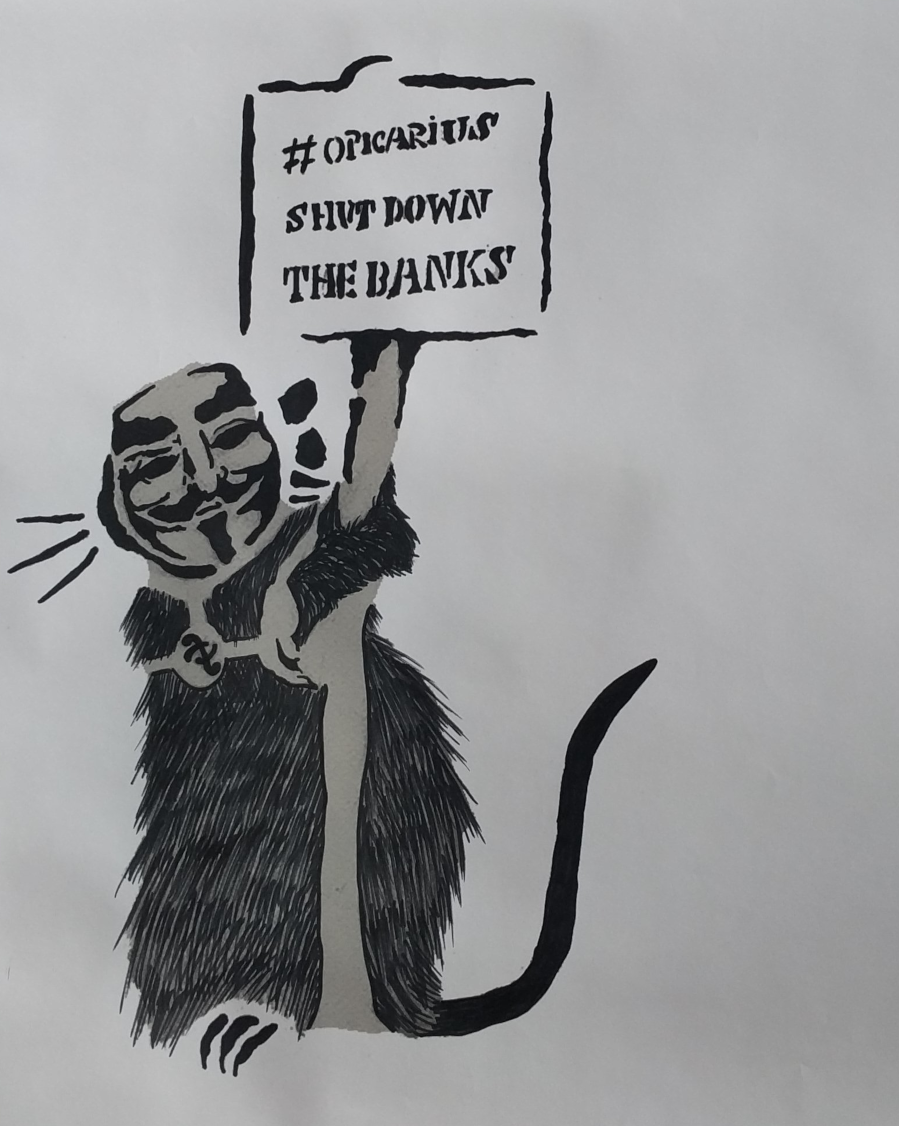 [en]
We realized the first experiment tokenizing rebel art works. Thanks to the collaboration with Delambsy
and the beta version of Creary:
https://test.creary.net/token/@ecofintech/ratanonymous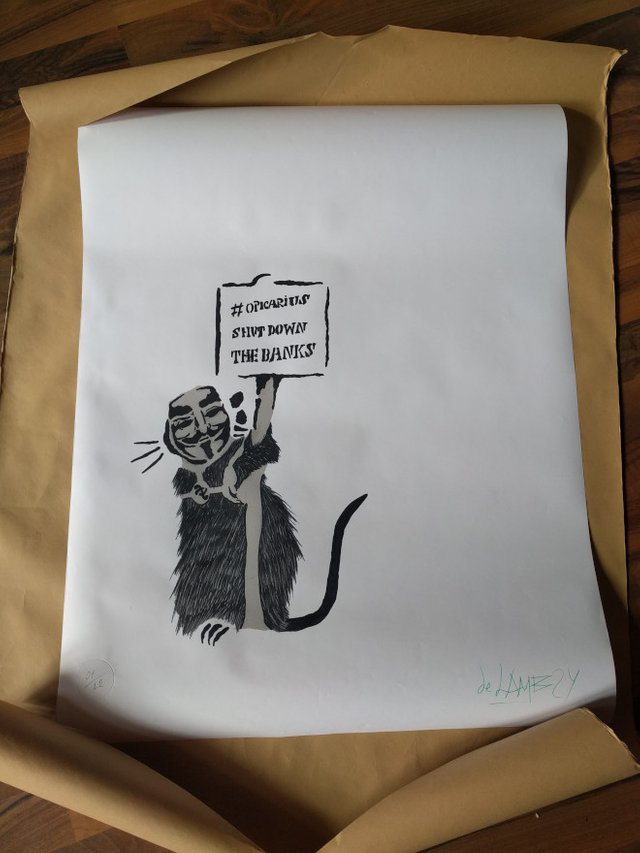 "Ratanonymous Token"
Underground and rebel art work tokenization:
Token-backed art work is a new revolutionary concept for collecting and investing in art at global and decentralized level. Ecofintech Coop offers art tokenization strategies for art enthusiasts, collateralizing physical art work with digital crypto assets in the blockchain. Tokenizing art works allow to offer new characteristics to the works, allowing fractional ownership, creation of own liquid currency, blockchain certification, intellectual property, crowdfunding, creative commons, shares or license smart distribution… and this is only the beginning!
Description
Edition: Tokenized screen print on paper limited series 1/12
Dimensions: 780 x 450 cm
Authenticity ownership certificate "Banco de Lambsy" n.: nRQiHVFcik8Vd
Author: deLambsy 2018
Token:
Blockchain Certificate: Verisart Certificate [Verisart certificates are used by leading galleries, artists and auction houses. They meet widely accepted standards for artwork classification by museums and cultural
organizations (CIDOC-CRM, LIDO, Object ID compliance)].
Bitcoin block: 0000000000000000001060a61762e4a9b4be2f43409ccc7bd1f3ca6ab20efcaa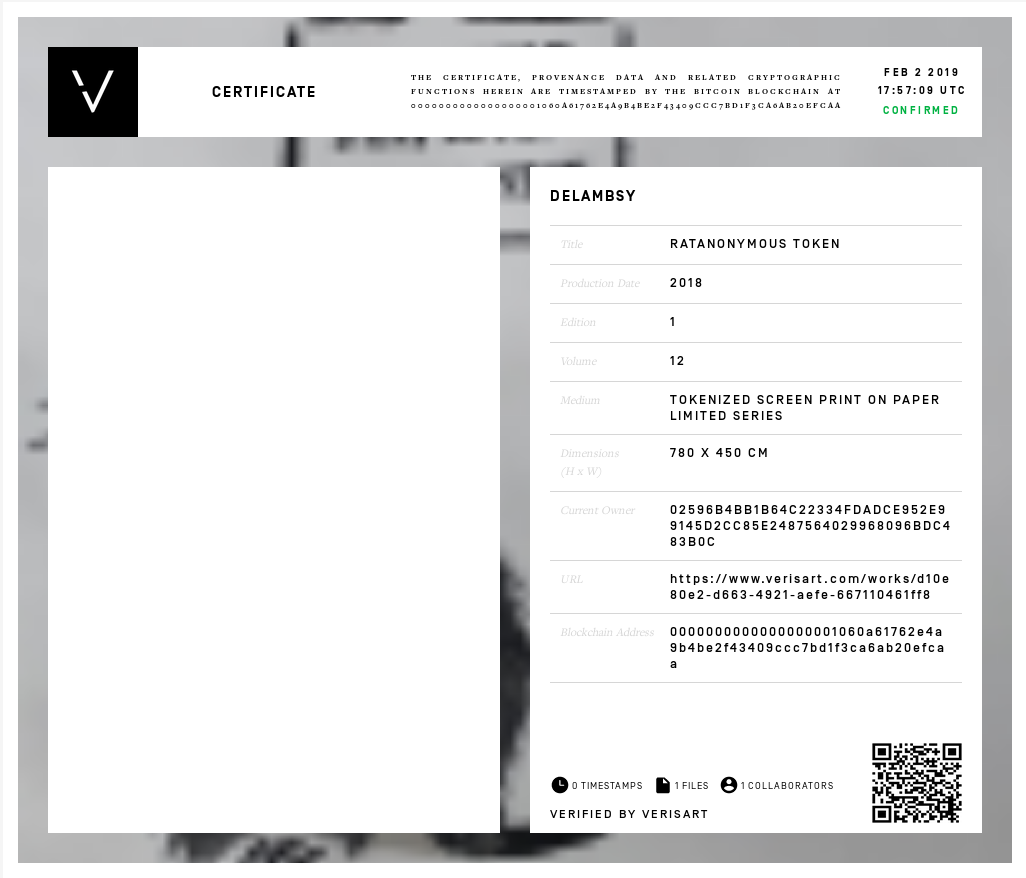 ---
Realizamos el primer experimento de tokenizado de obras de arte rebelde. Gracias a la colaboración con Delambsy.
y la versión beta de Creary
https://test.creary.net/token/@ecofintech/ratanonymous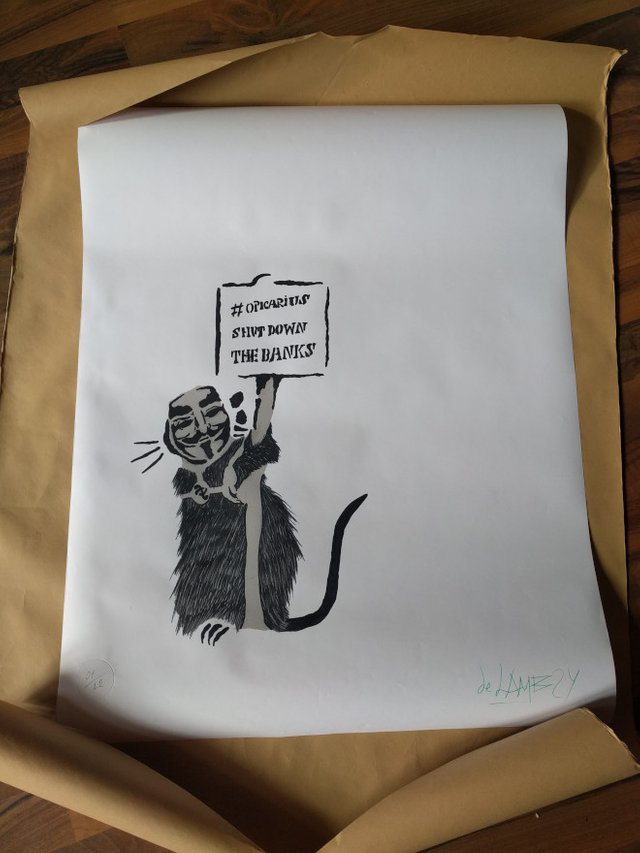 "Ratanonymous Token"
Tokenización de obras de arte de estilos underground y rebel:
Las obras de arte de Respaldadas por Token (Ficha Digital) son un nuevo concepto revolucionario para coleccionar e invertir en arte a nivel global y descentralizado. Ecofintech Coop ofrece estrategias de tokenización del arte para los entusiastas del arte, colaterizando la obra física con los activos de criptografía digital en el blockchain. Las obras de arte tokenizadas permiten ofrecer nuevas características a las obras, permitiendo la propiedad fraccionada, la creación de moneda líquida propia, la certificación blockchain, la propiedad intelectual, el crowdfunding, creative commons, acciones o licencia de distribución inteligente… y esto es sólo el principio!
Descripción:
Edición: Plantilla de impresión de serie limitada núm. 1/12
Dimensiones: 780 x 450 cm
Certificado de autenticidad de propiedad "Banco de Lambsy" núm.: nRQiHVFcik8Vd
Autor: deLambsy 2018
Token:
Certificado Blockchain: Verisart Certificate [Los certificados de Verisart son utilizados por las principales galerías, artistas y casas de subastas. Cumplen con los estándares ampliamente aceptados para la clasificación de obras de arte por parte de museos y organizaciones culturales (CIDOC-CRM, LIDO, Object ID compliance)]
Bitcoin block: 0000000000000000001060a61762e4a9b4be2f43409ccc7bd1f3ca6ab20efcaa